This issue contains some great stories which we all hope you'll read and comment on. This time Vero came through wth some book reviews and there are columns and interviews as well. Everyone at Mysterical-E hopes you'll enjoy the issue.
If you're on Facebook, you might enjoy joining the Mysterical-E group page: https://www.facebook.com/groups/741367832640597/   You'll find news from members, book reviews from many sources, and more.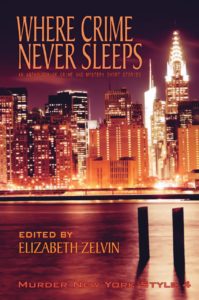 The Headline for the column this time refers to the new anthology that Sisters in Crime New York has sponsored published by Level Best Books).
Where Crime Never Sleeps: Murder New York Style 4
is an anthology that, as with earlier entries in the series, focuses on a New York sort of crime. With this volume, the crimes take place at iconic New York places or events. As the back cover says: What is the essence of the New York experience? A stroll across the Brooklyn Bridge? A concert at Carnegie Hall? Crossing the finish line at the New York Marathon? A trip to the Bronx Zoo? Or any one of these—plus murder? These seventeen stories by members of the New York/Tri-State Chapter of Sisters in Crime, with a foreword by Margaret Maron, explore the mystery and mayhem that lurk in every corner of the most unpredictable, irrepressible, inimitable city on the planet.
I'm happy and proud to say that I have a story in this collection: "Vincenzo's Head"   And it's in very good company in this volume. The full list of authors is as follows:
Rona Bell
Fran Bannigan Cox
Lindsay A. Curcio
Joseph R. G. DeMarco
Ronnie Sue Ebenstein
Catherine Maiorisi
Nina Mansfield
Mary Moreno
Anita Page
Ellen Quint
Roslyn Siegel
Kathleen Snow
Triss Stein
Cathi Stoler
Mimi Weisbond
Stephanie Wilson-Flaherty
Elizabeth Zelvin
The book will officially be published later this month. More news to follow.