Triple the Reading Pleasure
Today's a treat, a triple bill, if you will, with authors Laura Childs and Terrie Farley Moran talking about their latest mystery, Crepe Factor, book 14 in the Scrapbooking Mysteries series.
Also meet author Amy Patricia Meade, who talks about her latest mystery, Short-Circuited in Charlotte, the second book in her Nick and Stella Mysteries set in Vermont.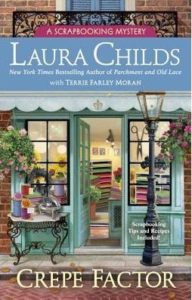 About the Book:
The holidays are a busy time for New Orleans scrapbook shop owner Carmela Bertrand—but not so hectic that she doesn't have time to enjoy browsing the booths at the Winter Market with her best friend Ava. The last thing the ladies expect to see is a lurching man stabbed by a serving fork, dying in front of them. And that is only the beginning of Carmela's troubles.
What inspired the story?
Laura: The idea for the Scrapbooking Mysteries just popped into my head one day when I noticed that scrapping, stamping, journaling, and all the related crafts had gotten super popular. I thought, "what a rich idea for a cozy series." Crepe Factor is book fourteen of the series, so I guess the idea was a good one.
What are your favorite parts of the book and why?
Terrie: I loved Carmela and Ava boating around the Bayou with Moony and Squirrel. I also loved Squirrel's dog. Because I am such a city girl (NYC to be exact), I enjoyed the research in developing these passages. And yes, I was able to call on my own experience of boating around the bayou.
How long have you been writing mysteries? How did you start writing?
Laura: Decades ago, I began writing short stories and even had a few published. However I spent 25 years in advertising first, honing my skills at writing radio and TV commercials before I became a full time author. Then I started writing mysteries and, 38 books later, I'm still going strong.
Terrie: I have been writing for 14 years. I always promised myself that when I left the high pressure job world, I would write a mystery. I had no idea the road would be so rocky, but mystery writing is now my profession.
What made you set the book where you did?
Laura: New Orleans is a city full of action, fun, and wonderful food, and those themes are constant throughout Crepe Factor.
Favorite Line:
Terrie: "In spite of the dead body lying practically at her feet, the frizzy-haired booth owner spun around wildly like a gyroscope that was out of control."
About the Authors:
Laura Childs (www.laurachilds.com/) is the New York Times bestselling author of the Tea Shop Mysteries, the Scrapbooking Mysteries, and the Cackleberry Club Mysteries. Under her real name, Gerry Schmitt, she is the author of the Afton Tangler thriller series including Little Girl Gone and Shadow Girl. In her previous life she was CEO of her own marketing firm, authored several screenplays, and produced a reality TV show. She is married to Dr. Bob, a professor of Chinese art history, enjoys travel, and has two Shar-Peis. Her next Tea Shop Mystery, Pekoe Most Poison will be released on March 7, 2017.
Terrie Farley Moran (www.terriefarleymoran.com/) is the nationally bestselling author of the Read 'Em and Eat cozy mystery series including the Agatha Award winning Well Read, Then Dead, Caught Read-Handed and Read to Death. Her short mystery fiction has been published in Ellery Queen Mystery Magazine, Alfred Hitchcock Mystery Magazine and numerous anthologies.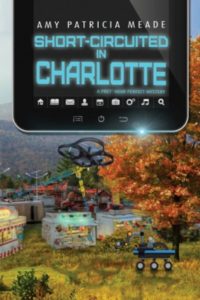 As a bonus, author Amy Patricia Meade talks about her second book in the Nick and Stella Mystery series, Short-Circuited in Charlotte, A Pret Near Perfect Mystery.
About the Book:
When US Forest Ranger, Nick Buckley, is invited to the Creator's Cavalcade to present his employer's environmental initiatives, his wife, Stella, sees the science and technology driven event – which takes place on the grounds of a luxurious nineteenth century estate – as a holiday from the drudgeries of new homeownership and small-town life. Then the Cavalcade's Founder and Director Philip Morehouse is found dead in his bed of an apparent heart attack and the inventor of geodesic yurt housing is discovered bludgeoned to death. Only by embracing her inner "geek" can Stella solve the mystery behind both men's unfortunate demises. But can she do so before the killer strikes again? And, more importantly, can she do so before the Cavalcade's all-vegan menu drives burger-loving Nick to drastic measures? 
What inspired the story?
My husband was playing a Maker Faire and I accompanied him on the trip. It was a terribly rainy, bitter cold day and, as such, there were very few people around. Looking across the fairgrounds, I noticed that the rocket specialist— who clearly couldn't perform that day— was slumped in his chair, asleep from boredom. He looked as if he might be dead. Thankfully, he wasn't, but it put the concept of a Maker Faire murder in my mind.
What is your favorite part of the book and why?
If my husband is reading this, I'd have to say the recycled materials musical character, who is based upon him! Apart from that, I actually love the ending 'chase' scene. It's a nice hat tip to the first in the series.
How long have you been writing mysteries? How did you start writing?
 I completed my first novel in 2000 and it was published in 2006, so it's 11 years now. I always enjoyed storytelling, even as a child. I would use my grandfather's Instamatic camera (Yes, I'm dating myself here) and then write stories of the photos I took, like a junior photojournalist.
What made you tackle this topic?
I thought it would be interesting to take a classic, old school cozy and put it in a high-tech setting. Technology changes, but human nature doesn't.
Favorite Line:
Of all the ridiculous, stupid situations… instead of spending a relaxing weekend with her husband, here she was with a dead phone, on the grounds of a creepy mansion, trying to prove that the owner of said mansion was murdered by whomever murdered another man on the same property at nearly the same time.
About the Author:
Amy Patricia Meade (www.amypatriciameade.com) is author of The Marjorie McClellan Mysteries, the Rosie the Riveter Mysteries, and the Nick and Stella Mysteries beginning with Well-Offed in Vermont. She is a native of Long Island, NY, where she cut her teeth on classic films and books featuring Nancy Drew and Encyclopedia Brown. A former technical writer, she now writes under the idyllic beauty of Vermont's Green Mountains. She is now working on a culinary/literary mystery series, and a stand-alone historical novel based on the mysterious last days of Edgar Allen Poe.