This issue, I decided to let a few favorite authors tell us again about their characters. After all, it's the characters we love to read about, right? So here's what they had to say!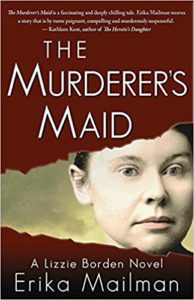 Author Erika Mailman has delved into the past before with her book on witchcraft and witch burnings, The Witch's Trinity. Now she has a new take on the legendary Borden murders.
In this case her latest book, The Murderer's Maid: A Lizzie Borden Novel, (coming in October), has a dual point-of-view: from Lizzie's Irish maid Bridget Sullivan in the past and from a modern-day barista, daughter of an immigrant maid unknowingly tied to the legendary murderer, who is trying to escape an attempt on her life. http://erikamailman.com/
Why this character?
"Bridget Sullivan started working for the Borden family in 1889 and tried to quit several times, but was talked into staying by Abby Borden, who was ultimately murdered in 1892. I like Bridget because like me she was a wanderer: she lived in several different states when first coming over from Ireland in 1886.
"I also appreciate that she was not pushed around by Lizzie Borden. At the inquest, she testified that Lizzie had cried the morning of the murders, but by the trial Bridget stoutly revoked that humanizing detail."
What inspired the book?
"I've been intrigued with this story since childhood. I'm sure I must've heard the jump rope rhyme on the playground growing up in New England ("Lizzie Borden took an ax, gave her father 40 whacks…").
"I always knew I'd write about her, but a few years ago I had a kind of feeling–I knew something was going on with Lizzie in the zeitgeist. And now we have the Christina Ricci miniseries that started out promising, and the movie that will be released this year (Kristen Stewart plays my character, Bridget Sullivan, while Chloe Sevigny plays Lizzie herself), more productions of the rock opera, and a lot of other books being released now. On top of all that, 2017 is the 125th anniversary of the murders. I'm glad I jumped on my gut feelings about the novel and wrote it."
Favorite Quotes (from Bridget):
"But you testified at the inquest…" He paused and walked to his table to gather up a few papers. "Now let me read and ask you if you didn't say this. You were asked by Mr. Knowlton, 'Was she crying?' and you responded, 'Yes, sir, she was crying.' "
…"I don't care what my memory is, I didn't see the girl crying." She could have bitten her tongue when "the girl" slipped out. That was not respectful. That was how doctors and attorneys referred to servants.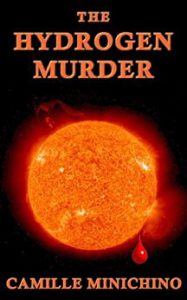 While author Camille Minichino has written dozens of books and three series – the Periodic Table Mysteries, the Miniatures Mysteries (under the name Margaret Grace) and the Postmistress Mysteries (under the name Jean Flowers), her favorite character still has to be her first. http://www.minichino.com.
She says, "you never forget your first time. For me, it was creating Gloria Lamerino, in the Periodic Table Mysteries, 20 years and 25 books ago. Gloria is like me in many ways, different in others.
"Like me, she's a retired physicist, Italian American, passionate about science literacy, concerned about females in STEM and is best friends with a couple who own a mortuary. She spent her youth on Revere Beach, Massachusetts, did a 30-year stint in California and returned home. (Unlike me: I haven't managed that yet!) One thing I'm happy about is that I was able to use metaphors that fit Gloria and reminded readers about science."
 Fun Fact:
Camille, who is also a miniaturist, liked Gloria so much she built, in miniature, the mortuary her friends own, and the apartment above the viewing parlor where Gloria lives in The Hydrogen Murder. (See photo gallery of miniatures – The mortuary is in photos 1 and 5: http://www.minichino.com/MiniatureMysteries/Miniature%20Gal-12/phpslideshow.php?directory=.&currentPic=1
Favorite Quotes (from Gloria):
"Since I'd come back to my hometown just north of Boston four months ago, I was like an electron searching for an orbit."
"I paused for what must have been less time than hydrogen was a metal in Eric's target chamber."
"I mentally drew the force diagram with an arrow to represent (spoiler)'s weight on the third or fourth rung of the ladder, and another arrow to represent the direction I was pushing.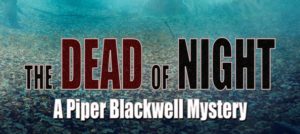 Author Jean Rabe's character, a young sheriff in a small town, has her second outing in The Dead of Night, A Piper Blackwell Mystery, coming out September 1. The book is the sequel to The Dead of Winter, A Piper Blackwell Mystery.
Rabe says given the title, "I figured it needed a death at night to start it rolling. Fitting, eh?"
About the Book:The main character, Piper, is daughter of the previous sheriff. "She's four months into her first term as sheriff, and she's the youngest—and most inexperienced—person in the department. But Piper is growing into the job, determined to prove herself up to whatever the county throws at her. And this time I throw quite a bit…
"I don't want to give any spoilers, but there are bones, cats, guns and lousy weather. Her chief deputy gets a chance to shine, too. The characters get a little deeper, and I introduce a few new ones to add to the rural county's fictional quirky population. And yes, I'm already thinking about the next Piper adventure."
Favorite Quotes:
Monday, April 30th
The old man sat in the middle of a bench under a big oak, his shoulders hunched and back curved, reminding Piper of a turtle. Hard to make out more details from where she stood under the streetlight.
The light didn't quite reach his perch, and she suspected he'd picked the spot for that reason; there were closer benches. The clouds hindered, a dense gray dome that coupled with the hour had turned the stretch along the bluff into a mass of twisting shadows. Lights in the houses at the edge of the park were flickering dots, will-o-the-wisps, she mused, more fitting for Halloween than spring.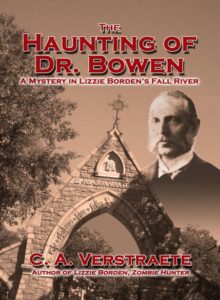 C.A. Verstraete, author of Lizzie Borden, Zombie Hunter, also takes a different approach to the infamous Borden murders with her latest book, The Haunting of Dr. Bowen: A Mystery in Lizzie Borden's Fall River. (Coming in August.) http://www.cverstraete.com.
About the Book:
The supernatural-flavored novella offers a different perspective by showing how the murders might have affected both the city and Dr. Seabury Bowen, Lizzie's neighbor, family doctor, and among the first of those arriving at the Borden murder scene of 1892.
Why this character?"While Dr. Bowen was a medical doctor used to the aftermath of accidents and even murder, the Borden crime was different: Lizzie and her family were patients and neighbors. It was a horrible, horrific crime and to many it seemed improbable that it would have been committed by a woman of her social standing.
"It also made me wonder how such a crime, and the trial, could have affected the doctor. Would he have nightmares? Or maybe he felt the city's history of violence, dating back to the Indian and Colonial wars, was more than a historical footnote? That helped me form a supernatural basis for the story and how the murders could have impacted the doctor's life."
Favorite Quotes:
The man reached toward him with long, lean fingers. Dr. Seabury Bowen blinked and tried to make out the features of the unknown figure standing in the corner. The unexpected visitor had a broad, dark face and what looked like a band across his forehead. Bowen stretched out his arm in turn and jumped when their fingers touched, the jolt surging through him like the electricity he knew would soon replace all the gas lights.
"Seabury, dear, are you all right?" His wife, Phoebe, sounded concerned. "What's wrong?"
Bowen breathed hard. He bolted upright and held a hand on his chest, trying to catch his breath. Still stunned, he gazed about the room, disturbed at the odd shapes until he recognized familiar things… the bureau, the armoire, the paintings on his bedroom walls. He swallowed and nodded.
"Ye-yes. I-I'm fine. A bad dream, that's all it was. Just a dream."