This issue includes reviews by both Vero Caravetta and Joe De Marco
The following reviews are by Vero Caravetta
Fat Cat Spreads Out (A Fat Cat Mystery) by Janet Cantrell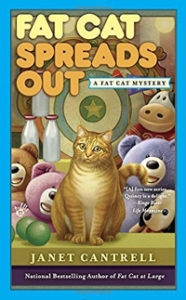 Quincy, the "star" of this cat mystery is kind of loveable if a bit mischievous. He has a mind of his own and an appetite bigger than is good for him. Chase Oliver, Quincy's human pet, is the co-owner of Bar None which seems to make only sweet confections in the form of bars (confession: not a baker so the closest I could come to imagining a "bar" is a lemon bar). She and Anna, the other co-owner have decided to take a booth at the Bunyan County Harvest Fair which could help spread their reputation and a few waistlines. Quincy immediately gets into the stash of sugary bars of every flavor and when he's done he goes in search of more treats. Unfortunately he finds murder. Also unfortunate is the possible involvement in the crime by Dr. Mike Ramos, a guy Chase has her eye on. But that'll never happen if he's carted away for the murder of one of the premiere butter sculptors in the state. Case knows she has to do something and quick. Her friends all around are all on the brink of marriage which would leave Chase baking fragrant bars of sweetness. So, she's got to help solve the crime and she does her best. Quincy, always on the lookout for another treat, tries to bring the two love birds together by boarding with Doc Ramos, who just happens to be a vet. So Chase must see Ramos every time she drops Quincy off and picks him up or visits in between. That cat does his part. Being new to cozy cat mysteries, I was hoping for more of Quincy's observations – there are some, for sure, but that pudgy marmalade cat has a lot more to say. I can tell. Maybe in the next installment.
When Bunnies Go Bad by Clea Simon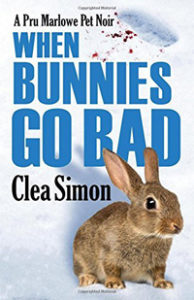 This is the second Clea Simon novel I've reviewed for Mysterical-E (but it's the sixth in the popular series) and this one is better than the other though it suffers from some of the same problems. Pru Marlowe the amateur sleuth who can sense the feelings and some of the thoughts of the animals she deals with as well as any others she encounters Pru certainly does better with her animal friends than she does with the humans around her (which is one of the problems, since to do her amateur sleuthing, she needs human help even more than animal assistance). Her talent serves her well in her "job" as an animal specialist who will take on any animal related job from the menial like dog-walking, to the rugged like squirrel-proofing a home, to higher-status gigs like being a pet companion to a rich, elegant women. She'll take any job especially in winter, which, in Beauville, isn't easy. In this installment, Pru gets mixed up with the trophy girl of a rich tourist who has the misfortune of being murdered. Pru gets involved because the tourist's dog is involved. Pru gets to babysit the dog as well as the forlorn trophy-girl. At the same time she is engaged to discover the secrets being withheld by Henry the pet rabbit of an older woman. Henry, it seems, is not himself lately and Pru must get to the bottom of things before the woman's granddaughter gets home and finds her rabbit has skipped town. There are some interesting twists in this second volume which make the story more engaging, Like the mysterious mobster – or is he? – who keeps appearing and disappearing and who has an abiding respect for Pru's talents. There's romance, intrigue, heists, and animals – all sorts of animals. This is a good addition to the series which keeps getting better.
Climatized: A Max Ford Thriller by Sally Fernandez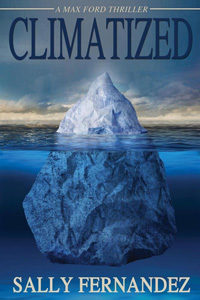 Maxine Ford, has resigned from her position with a US intelligence agency, but realizes she needs an outlet for her sleuthing talents. Establishing her own investigative firm is the best solution. Her clients, she figures (being well acquainted with the DC revolving door between political office and corporate boardrooms) would include the Washington elite like senators, members of congress, former cabinet members, and other high profile beltway oligarchs. In this first installment of the series, Maxine is hired by the wife of a Senator to determine the cause of his death. This leads the discovery that three world-renowned scientists were killed days before they were scheduled to testify before the late Senator's investigative committee. And a fourth scientist has gone missing. Maxine figures she needs to find the missing man to solve the puzzle. She and her associate, Jackson Monroe, eventually discover even more than they set out to find. This is a book which takes a situation in the news every day and brings it to readers in a very different way. Readers will enjoy the interplay of characters, the twists and turns, and the situations.
The Vanquished by David Putnam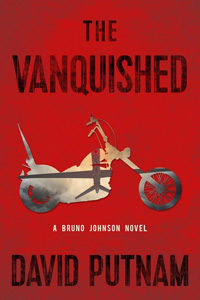 This installment in the Bruno Johnson series is another winner. The former cop, now living with his wife and a brood of rescued children, in Costa Rica, is never far from trouble. A message from an outlaw motorcycle gang and a fierce enemy of Bruon's, arrives and sets the action in motion. The gang is out for revenge and very little will pull them off course. His wife has her own troubles in the form of an ex that she must contend with back in California. The FBI, interested in taking down the gang, recruits Bruno to help. It seems the gang has stolen a military drone complete with missiles. And Bruno may be the only one who can recove it. This is another page turning volume in the Bruno Johnson story. If you're already a fan, you'll be enthralled. If you haven't discovered this series yet,. Start with the first book and you're in for a treat.
The Gail Force by Robert Lane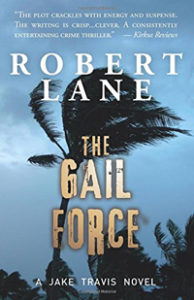 A corrupt art gallery owner, the FBI, luxury yachts, beautiful women and danger – what more could some readers want? Jake Travis, the center of this maelstrom, has his work cut out for him. He must work to save lives, uncover a rogue FBI agent, expose the gallery owner's corruption and strange obsessions, and keep his own life with his girlfriend intact. The writer does all this with humor and some excitement. It's easy to see why this page-turner has garnered attention.
The Comfort of Black by Carter Wilson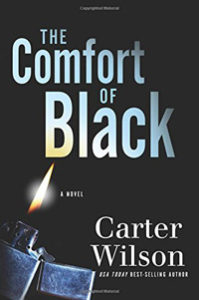 Hannah finds herself on the run. From her husband and the shocking secrets he unwittingly revealed to her one night. She needs to disappear and quick and when she meets a man called "Black" she thinks she can do it. Black is an ex-con whose specialty is helping people disappear and start over. But her husband had a long reach and just might be able to find her no matter where she goes to hide. Hannah must deal with her own family's dark past as well as her husband's sudden turn to violence. Unable to really trust anyone, even the mysterious Black, Hannah must work out the problem for herself unless she can find a way to trust someone. This is certainly a high octane thriller with paranoia running amuck through the pages. Suspenseful and engaging, this book will keep readers entertained.
WhistleBlower And Double Agents by R.J. Anderson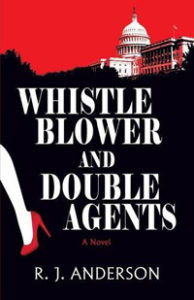 This novel is part roman a clef and part docudrama. It ostensibly takes place in the present but there is a feeling that one of the keys to this novel is some time in the past. A president is assassinated and his Texan Vice President takes his place. There is a war brewing in the "Far East" (the term the book uses) which the new President continues because he claims to have seen the ghost of the former president urging him to continue the war. On the new President's desk is also the problem of missing nuclear materials. Although under the watchful eyes of the CIA and the FBI, the materials are carefully being tracked. The thief and his buyers are well known but for some reason, they can't or won't make a move to arrest anyone. The cast of characters is large and the activities are complicated.
The following reviews are by Joe DeMarco: 
A Murder of Magpies by Judith Flanders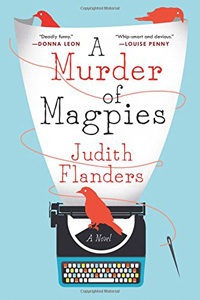 Barnes & Noble sent me a coupon. Not sure why but that led me into the store looking for a mystery. And I randomly chose A Murder of Magpies. It could have been the cover. It could have been the description. I can't quite remember what led me to take it off the shelf and redeem the coupon. But I'm glad I did. Flanders's debut mystery is a laugh-filled, stylistically elegant and witty read. The book grabs you from the start and doesn't let you go. But it's an enjoyable romp and will entertain you greatly. The witty asides, the inside knowledge of the publishing industry (at least the British one), the quirkiness of the characters and the intricate plot will make this book hard to put down. London book editor Samantha Clair thinks this will be just another day at the office doing her less than glamorous thing. Checking jacket copy, wondering how to tell a novelist that her latest effort is not good enough, and doing mundane office tasks. She looks forward to lunch with a gossipy author, Kit Lowell, whose new book is filled with juicy dirt on a recent fashion industry scandal. But she has no idea the trouble Kit's book will cause, even before it's in print. When police Inspector Field turns up at Samantha's office, asking about a package addressed to her, she knows something is wrong. Her life is turned upside down as she finds herself in the middle of a criminal investigation. Someone doesn't want Kit's manuscript published and they'll do anything to stop it. There's a lot more to this book than the central story, which is a good one. Twists and turns, interesting and eccentric characters, subplots and side situations all make this not just interesting but delicious. You won't find it easy to put this book aside.
Picture Miss Seeton by Heron Carvic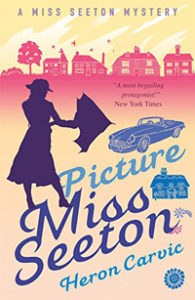 Miss Seeton is an amateur sleuth or more aptly an accidental amateur sleuth who has appeared in more than twenty novels from 1968 to 1999 and written over that time by three different authors (Heron Carvic, Roy Peter Martin writing as Hampton Charles, and Sarah J. Mason writing as Hamilton Crane). This is the first and a rollicking good time it is. In London, Miss Seeton, walks out of a performance of Carmen and promptly witnesses a stabbing – a real one. She is contacted by the police to give her account and that should have been that. She decides to get on with other things. The soon to retire art teacher, has inherited a cottage in Plummergen, and decides after the excitement, to see if retirement would work in that rustic setting. The excitement, however, isn't over and follows her to the quiet village. As do the London police. There are characters you'll remember long after you've finished this book. The town sounds both delightful and cranky – if a whole town can be cranky. And Miss Seeton sails through it all with aplomb. Miss Seeton herself is one of the more original characters in mystery fiction. Her drive and sense of what's right or wrong, of what's proper or not, get her into and out of situations which are wonderful to read about. The writing style is fun and effectively pulls the reader into this most eccentric but wonderful world. I highly recommend this book and the series.
NOTE: This edition is the original. You can feel confident in purchasing copies. When I saw a complaint from someone on Amazon about passages being edited from this edition, I was curious but the publisher gave me the facts behind the edits which were not edits at all. He said, "The Kindle edition follows the text of the original UK edition first published by Geoffrey Bles in 1968.  The US edition published by Harper & Row the same year introduced additions to make it darker in tone to fit in with their "Harper Novel of Suspense" imprint. However, those additions were discarded with Berkley's 1988 US paperback, and subsequent editions."

The Candidate by Lis Weihl and Sebastian Stuart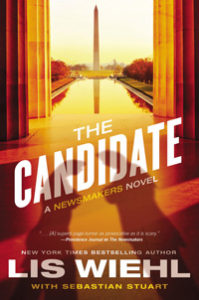 Part of her "Newsmakers" series, this book asks the question: "How far will a candidate go to become president?" The central character, Erika Sparks, a nationally known cable news host, will find out. Popular war hero, Mike Ortiz, is a shoo-in for the Presidential sweepstakes. His wife is alluringly flawless. But Erika is troubled by this perfect couple and has a difficult time believing that things are as they seem. Ortiz just doesn't seem right to her – his reactions are wrong, his timing isn't always good, and there's more. Erika is also troubled by the months Ortiz spent in a terrorist prison. Of course, deciding to find out the truth behind all this proves dangerous for Erika and her daughter. If she gets too close to the truth, she and her family could pay the price. When she does find out the truth, Erika is shaken t the core. But the outsiders who are bent on undermining American democracy must be stopped and Erika seems to be the only one who recognizes the danger. If she doesn't root out the truth, the nation could be finished. There is plenty of explosive action, intrigue, and high danger. Well paced and written this should be a favorite for those who love political intrigue and thrillers.
Sherlock Mars by Jackie Kingon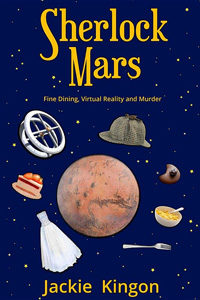 Molly Marbles runs a bistro on Mars which has been terraformed to make it habitable. Of course, technology being what it is and people being what they are, Martian foodies are fascinated by a new virtual restaurant that opens near to Molly's joint. The attraction? No calories in any of the meals which hail from all around the solar system. (Of course, with a lower gravity, who'd notice a few extra pounds on the Red Planet? Still, Molly worries whit this will do to her calorie-laden business. But luck for Molly, the Virtual restaurant owner is murdered. And not virtually. Molly, an amateur sleuth, helps the police solve the mystery even though she's got better things to do like plan her daughter's wedding. She's also got a feisty staff on her hands and has to continually broker peace agreements in the kitchen. And the humans who hate cyborgs are another concern since Molly's good friend is one of "them". There's also a serial killer on the lose and…? Well you'll have to read this riotously funny book to find out. Sherlock Mars better known as Molly, will guide you through the dusty Red Planet and give you a good time. If you like SciFi, and even if you don't, this is a fun read which will give you some good laughs. If food is your thing, there's plenty of that in this comic novel. Try this cross genre delight.
War Noir by Sarah Trott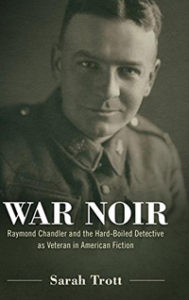 Sarah Trott examines the effect of World War I experience on mystery/crime writers of that generation, especially Raymond Chandler. Just as World War ii and Vietnam had an effect on writers of those eras, so too did the First World War. Trott theorizes that Chandler's combat experience helped him crreate Philip Marlowe as an individual subject to the psychological frailties brought on by experience in The Great War and not as the idealized hero many think him to be. Marlowe is, she claims, a representation of the traumatized WWI American veteran. The vet returns home from trench warfare to corrupt cities filled with criminals and violence. Trott's work shows how Chandler used his war experience to develop his brand of detective literature. This is a valuable new look at a giant of detective fiction.
How to Kill Friends and Implicate people by Jay Stringer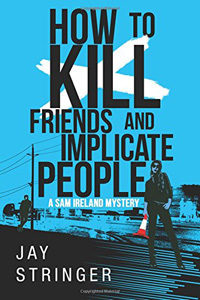 Glasgow and the atmosphere is dense. A hit man, named Fergus, who will do the deed for a price and for a higher price frame someone else is heading for a crazy ride. He finds himself in love with a pretty bike messenger named Samantha but in the now tired tradition calls herself Sam. At the same time Fergus is hired to pretend to kill someone – Alex Pennan, a guy who wants to fake his demise so he can avoid the mob, from whom he's stolen something. That something is sought by Joe Pepper a mob fixer and he will stop at nothing to get the package. Trouble is, Samantha has been given the package to deliver for the fakely dead Pennan. Joe finds out Sam's got the goods. He knows one bloke he can turn to who'll kill the bike messenger and get the package. Fergus. Amazingly enough, this is a comedy, a romance, and a thriller. It's also one you'll enjoy quite a bit. The writing is solid, the accents the characters have are natural and give a definite sense of place. Dark doings, sure. Funny situations, of course. True to the thriller genre, it scores well on this lever, too. Oh, and of course, there's romance.
Blood Trails by Diane Capri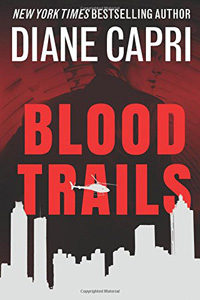 A forensic genealogist. Yes, you heard that right. Forensic genealogy. Who knew that was a thing? Michael Flint is one and he's also a retired veteran of an agency which performed high-end private investigations. His new thing, he tells clients, is that he can find anyone, anywhere, anytime and that's that. One set of people he finds is heirs. Laura Oakwood would be one if she could be found. Seems that the inheritance – vast mineral royalties – has a ticking clock attached and Flint has just three days to find her. Problem is that Oakwood was involved in a deadly armed robbery three decades before and has been on the lam ever since. And even that complication isn't bad enough. Rival tycoons, Shaw and Krane – one wants Okawood to be found the other doesn't – are on Flint's case as well. Then there are the mercenaries. Well, you get the idea. Flint has a lot on his plate. But Flint is tenacious and haunted and very clever about keeping trouble off his tail. His hunt for Oakwood allows him to delve into his own past and the secrets and memories which dog his days. This is a great read which will keep you up late. From the characters to the settings to the mysteries, this book is worth reading.