Halloween has come and gone again along with Thanksgiving and that means Christmas is right around the corner. Lots of good reading coming up!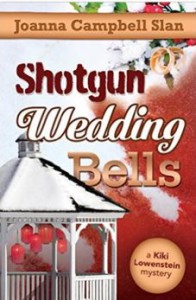 Today I'm talking with multi-published author Joanna Campbell Slan, author of the Kiki Lowenstein scrapbooking series (her 11th title is Shotgun Wedding Bells) and the Cara Mia Delgatto mystery series – her latest is the Cara Mia Delgatto Short Story Collection, Volume 1.
She also is editor and contributor to a Christmas-themed mystery anthology, Happy Homicides: Thirteen Cozy Holiday Mysteries. The 600-plus page collection features traditional mysteries by 13 bestselling and award-winning authors and comes with a bonus recipe and craft file, too! (http://www.booklaunch.io/joannaslan/happyhomicidesholiday).
Slan's two stories include, "Lost and Found Holiday Gifts: A Cara Mia Delgatto Novella" where Cara sets out to do a few small favors and learns how a thoughtful gift can change a life. And in "The Rowan Tree Twig: A Kiki Lowenstein Novella," Kiki's idea to keep a promise to her late friend, Dodie, hits a sour note when Dodie's husband is wrongly accused of murder.
Slan has worn many hats in her career, from journalist and scrapbook artist, to motivational speaker and author. She is the author of 30 books, both fiction and nonfiction. She also is the 2013 Daphne du Maurier Award Winner. And I'd be remiss if I didn't mention her fellow passion in creating dollhouses! http://www.JoannaSlan.com.
Ask about her writing and she'll quickly point out the merits of writing in various categories. "Nonfiction offers the opportunity to organize your thoughts," she says. "It's a great way to learn more about a subject. On the other hand, I love writing mysteries and personal essays because they give me the chance to ask, 'What if?' and use my imagination. Working on an anthology gives you the chance to learn from other authors. I love my work, and I love writing."
She also loves holiday books since they appeal to both writers and readers. "Last year I did a holiday book, and it received a lot of wonderful feedback," she says. "I think the biggest problem for today's authors is discoverability, so I thought I'd do another holiday book, but one designed to practically give away my work in order to tempt new readers. My dear pal Linda Gordon Hengerer was interested in working with me, and so off we went! What impressed me was the great variety of stories with a holiday theme. Also, we've become a close-knit group sharing all sorts of marketing ideas."
One of her other successes has been in self-publishing, beginning back in what we can call the "dark ages" – the days of having to buy tons of copies. But her experiences also have helped her in her latest ventures. She offers these tips to those looking to dip their feet in the water: marketing and value are key.
"I actually went into self-publishing back in 1993," she recalls. "Back then, to self-pub, you had to find a printer and commit to thousands of physical books. Because I was traveling the world as a motivational speaker, I sold 15,000 copies of I'm Too Blessed to be Depressed. That's the most money I've ever made from any single title.
"What have I learned? You simply have to offer the reader tremendous value. Otherwise, you need to hope and pray that lightning strikes, because it's a game of luck. Also, the more prolific you are the better. And finally, selling those suckers is up to you. Period. If you aren't prepared to market and sell through, you won't succeed. That tip is important even if you sign with a publisher, because you need to realize that you are a commodity—a disposable commodity that's easily replaced. If your books don't sell, it doesn't matter how good they are, you're history.
"In truth, everything I've done has prepared me for what I do today. I was lucky to have a supportive spouse who is a businessperson, but in the end, it's been up to me. I was blessed with the firm belief that no matter how many times I get knocked down, I'll pick myself up and start over. This is an ever-shifting landscape, so the ability to be nimble and change approaches is critical and will be even more critical going forward."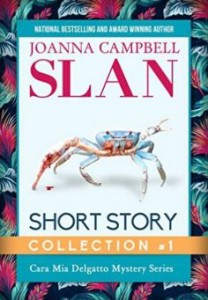 The best part of writing, Slan says, is developing characters she's come to love, and who have hit a soft spot with her audience.
"I want them (the readers) to feel that reading my books are like taking a vacation with their best friends," she says. "Cara believes that everything and everyone deserves a second chance. I love that about her. But she can sometimes be too self-confident. In that way, she's the opposite of Kiki Lowenstein."
Slan is a daily writer, even if having an ocean view from her Florida office window can be viewed as a deterrent—or not. "I write every day, except sometimes on Sundays," she says. "I knock out at least a couple of thousand words.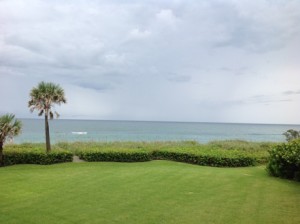 She offers this writing advice: "Run toward criticism instead of away from it. Otherwise you'll never improve." A few other tips are:
* Keep writing. Wendy Corsi Staub told me this was my best marketing tool, and she was right. The more you write the more you learn about writing. I'm so much better than I was when I started! And I see improvement all the time.
* Plan for a twist. It keeps your work fresh and exciting. The twist sends your protagonist off in a new direction so you avoid saggy middles.
* Edit your work in as few sittings as possible. Otherwise you can't keep track of minutia.
* Print out your work on two facing pages, like it'll appear eventually. There are "stutters" you'll pick up visually this way.
So, what's next? Slan hopes to do more themed anthologies and of course, has many more stories on the back burner, including finishing the third Cara Mia book, All Washed Up and the next Kiki book, Glue, Baby, Gone. She's also compiling a chronological set of the Kiki stories.
And then? She jokes, "I take over the world. Mwah-ha-ha. I'm taking classes from David Farland, the Story Doctor, the man who helped Stephenie Meyer with her concept for Twilight. With him, I'm developing a paranormal YA series. Oh, and I plan to work on the next Jane Eyre novel. Other than that, I plan to twiddle my thumbs, work on my tan, and eat bon-bons."
Upcoming and New Mysteries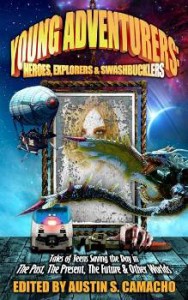 C.A. Verstraete's part-zombie girl character Becca faces her fear of dogs and solves a mystery in the upcoming story, "Puppy Love and Zombies" in the young adult anthology, Young Adventurers: Heroes, Explorers and Swashbucklers. It features 14 tales including a story from the future Repairman Jack by author F. Paul Wilson. Pre-order Nov. 1. See Facebook group https://www.facebook.com/groups/728914700547208/ or author website, http://cverstraete.com.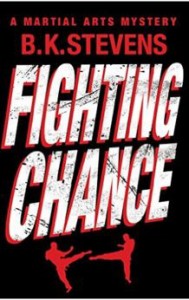 Seventeen-year-old Matt Foley can't stand and do nothing when his coach and mentor is murdered, so he investigates what happened in the new martial arts mystery, Fighting Chance, from author B.K. Stevens. http://www.bkstevensmysteries.com/book/fighting-chance-a-martial-arts-mystery-for-young-adults/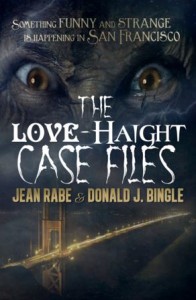 A unique law firm in 1960s San Francisco seeks justice for the "other-than-humans" – zombies, ghosts, ghouls and more – in The Love-Haight Case Files by Jean Rabe and Donald J. Bingle. http://wordfirepress.com/books/the-love-haight-case-files/