Cold Weather Reading
When the temperature lingers at zero and the wind chill is a minus, there's nothing better than curling up under a blanket with a good book. And at least while you're reading about snowy, cold locations you can sip a nice hot drink and stay warm.
So, doing just that, this time I asked the authors to share a little about their cold-loving characters and their books with cold settings. Brrr!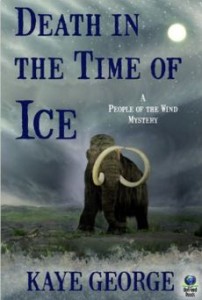 Kaye George seems to have a thing about ice, lots of ice. DEATH IN THE TIME OF ICE (Untreed Reads) centers on a Neanderthal tribe dealing with the next Ice Age. Enga Dancing Flower knows her Neanderthal tribe is in trouble. The dark seasons are becoming longer and the mammoth herds are fleeing south. When the tribal leader is found stabbed to death, the new leader thinks Enga did it. Expulsion and certain death looms. Enga must find the murderer to save her tribe — and herself.
(Read more about the book in my previous interview in the April 2014 column of Mysterical-e, http://tinyurl.com/jz6z6g2). The sequel, DEATH ON THE TREK, comes out in June and takes place over the next summer as the tribe moves away from the approaching glacier. (http://kayegeorge.wix.com/kaye-george)
George says her favorite character has to be Enga Dancing Flower. "She started out with a strike against her, not being born into the tribe that took her in as an orphan, but has made her place as the best dancer," she says. "That's important because the tribe needs to get the attention of, and attract the favors of the gods who rule the weather and the big game they depend on."
Favorite Quote:
The dancing males stomped their feet on the hard stones and the females twirled through the night air, flinging their hair to get the attention of the Spirits. They wore their best ceremonial finery; wolf and bear capes for the males, soft camel or brown bearskin capes for the females, all flaring with their spins. Their tresses, coppery, brown, blond, and a few gray, adorned with river shells and tiny bird bones, clicked and clanked.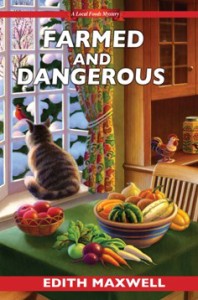 Edith Maxwell's (http://www.edithmaxwell.com/local-foods-mysteries/) latest Local Foods mystery, FARMED AND DANGEROUS (Kensington Publishing), is set in a snowy Massachusetts. Supplying fresh ingredients for a dinner at an assisted living facility seems like the least of organic farmer Cameron Flaherty's worries—until one of the elderly residents dies after eating some of her produce. As the suspects gather, a blizzard buries the scene of the crime under a blanket of snow, leaving Cam stranded in the dark with a killer who gives new meaning to the phrase "dead of winter."
She says her favorite character is Cam's Great Uncle Albert. "He lives in assisted living, but he's fun, adventurous, and loyal family to my farmer protagonist," says Maxwell. "He's active in the computer club, likes a beer now and then, and even has a new lady friend, Marilyn."
Favorite Quote:
After Cam hung up the phone, she stood and stared at it. No way were these deaths related. Or maybe they were. If so, was it someone targeting senior citizens, as Albert said? Yikes, that would mean he could be in danger, too. No wonder he was nervous.
Or maybe it was somebody trying to frame Cam herself. She checked to make sure the door was locked and bolted. And then checked it again.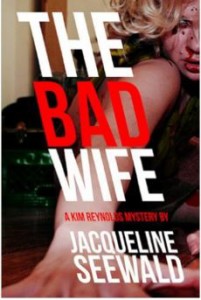 Jacqueline Seewald's fourth book in the Kem Reynolds mystery series, THE BAD WIFE (Perfect Crime) is set in a wintry Central New Jersey. Kim Reynolds is an academic librarian and reluctant psychic sleuth who tries her best to help other people. When her police detective boyfriend is accused of murdering his ex-wife, Kim puts every effort into discovering the real murderer and nearly gets herself killed. It also can be read as a stand-alone. (http://jacquelineseewald.blogspot.com)
Seewald says she has a special rapport with Kim. "At the time I started writing THE INFERNO COLLECTION which is the first Kim Reynolds mystery, I was getting my MLS degree and also working in the reference section of the university library performing the duties of an academic librarian," says Seewald. "So I suppose it was natural to come up with a heroine who was an academic librarian. Kim was my alter ego except that she's a fictional version."
Favorite Quote:
Kim left police headquarters and the civic center complex as quickly as she could. The wind whipped across her face with the cruelty of a switchblade. It had icy tentacles. Kim found she could barely catch her breath. Pulling her navy wool coat collar up, she thought how much she hated winter. She supposed it was appropriate that Evelyn Gardner had died in the season of death.
Other New and Notable Reads: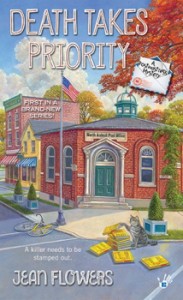 Camille Minichino, writing as Jean Flowers, (http://www.minichino.com/) is tackling the postal world with her new postmistress series. The first book, DEATH TAKES PRIORITY, has Cassie Miller returning to Massachusetts as postmistress. Someone's broken into the post office and stolen phone books, of all things. But things get more serious after a friend and local antiques dealer is taken into custody after a body is found in the woods.
Terrie Farley Moran (http://terriefarleymoran.com/) has joined Laura Childs in the recent, PARCHMENT AND OLD LACE, A Scrapbooking Mystery. A romantic walk is ruined when scrapbook shop owner Carmela Bertrand and her beau find bride-to-be Isabelle Black strangled to death with a piece of vintage lace. She'd rather leave the investigating to her detective/boyfriend, but she can't say no to Isabelle's sister and hopes she can draw out the killer before someone else gets cold feet.
Terrie also has a story in the Jan/Feb double issue of Arthur Hitchcock Mystery magazine (and her name on the cover!)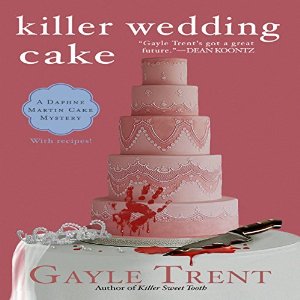 If you like audio books, Gayle Trent's (http://www.gayletrent.com/) KILLER CAKE, Daphne Martin Cake Mystery, (book one in the Daphne Martin Cake Decorating series) is now out on audio. Daphne has to put her own wedding cake on hold when her ex comes back to town. When he's found murdered, Daphne is in the center of the investigation and has to track down the killer before she becomes the next victim.
See you next time!