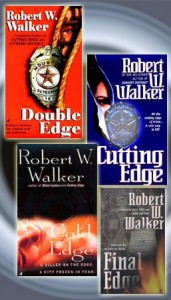 Author Robert W. Walker is a man on a mission. His plan, besides writing top-notch novels, may be to have more books in print than the big-name authors. And he's pretty well on his way with more than 60 novels under his writing belt.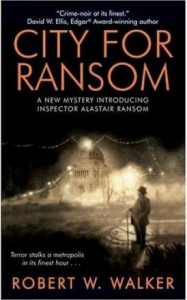 Walker, who grew up in Chicago and now lives in West Virginia, is best known for his two crime fiction series, the Instinct books and the Edge books, along with his award-winning historical series featuring Inspector Alastair Ransom, which includes CITY FOR RANSOM (2006), SHADOWS IN THE WHITE CITY (2007), and CITY OF THE ABSENT (2008). He has since added a new dimension to the series by placing Ransom on board the Titanic in the historical/science fiction hybrid, TITANIC 2012 – CURSE OF RMS TITANIC.
Between teaching freshman English and Literature classes at West Virginia State University, he continues to work on new novels in various genres from young adult, to historical, crime, horror and more. His latest is THE FEAR COLLECTORS, number 13 in the Instinct series. (www.robertwalkerbooks.com.)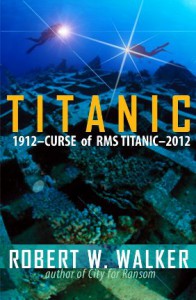 Walker broke into publishing in the early 1970s with SUB-ZERO, a spoof of men's adventure stories about an ice age descending over America. One problem: "the publisher didn't get the joke," he says. "It was published as a straight-faced men's adventure!"
That opened a new line of writing for him and an "a-ha" moment. "I pursued horrific events and characters thereafter with the sudden knowledge of what really is meant by 'commercial' fiction,'" he says. "You cannot be outrageous enough. I just did THE FEAR COLLECTORS and I kept asking myself will anyone believe this could go on inside prison walls? Then of course with what is coming out about the escape in Upstate New York from a max security prison, I can shrug that off. In my prison some outrageous stuff is going on, way outrageous."
Walker's penchant for trying to raise eyebrows actually began with his goal of "seeing what a rise I got out of my teachers" in his junior high writing assignments. By then, he knew he wanted to be a writer and looked to one classic author for inspiration.
"I ended up studying my favorite author, Mark Twain, closely," he says. "My first novel completed in high school was in emulation of Twain and the manuscript got me a full scholarship to Northwestern University and out of inner-city Chicago."
Walker soon realized that like Twain, he had to write in different genres. "I write in just about every category of genre fiction and have been known to make attempts at 'literature' as well, mostly with historical themes," he explains. "I wanted to be as versatile a writer as my hero, Twain. That meant I had to learn to write damn well and be capable of switch-hitting like Twain did. He did YA books but also historicals, and he did nonfiction, mystery, ghost stories, and humor."
In his latest, FEAR COLLECTORS – Instinct #13, Samantha 'Sam' Reason of the Chicago PD stumbles onto the case of her career, one she is at first reluctant to share with consultant and former FBI Profile Expert and M.E., Dr. Jessica Coran. The two strong-willed, personable detectives soon work together to uncover the evidence of a ruthless cartel that barters in death—the product being snuff films. From Chicago to Florida and points in-between, the women follow the case's twists and turns. The question is, how dark can a killer's mind get? How deadly?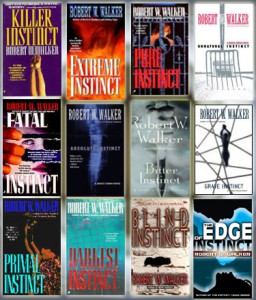 About FEAR COLLECTORS-Instinct #13:
The Instinct series follows the case files of FBI medical examiner and profiler, Dr. Jessica Coran. The first six books were sold to Diamond Books/Penguin. Walker says the latest, FEAR COLLECTORS, is special "because I intended it to be a novel about empowered women empowering other women. It also takes great risks in that not one but two strong female sleuths are working as a team (Cagney and Lacey style, but not exactly). I wanted these two to become extremely successful and become very close in their relentless effort to bring their prey to justice—and they do, but at a terrible price. The book also intended to display love between the two ladies, a big departure from previous Instinct titles. But then each Instinct title departs from the one before.
"I find Jessica to have all the wonderful qualities of the best in us. Her scientific mind is admirable, but also her tenacity. She is as focused as Ahab after the White Whale when she sinks her teeth in a case. She is also an astute medical examiner. Her great flaw is the MAN thing; she gets her heart broken many times over thanks to the men she is attracted to."
 What did you learn about writing in general and in writing this book?
 "Every book is a class, and if you are awake for it, you learn so much from the doing of it, the writing itself. One never knows what turn of phrase is coming up on the next line. One never knows when next he or she will surprise himself/herself. I have learned that the real smoke and fire and brimstone of your novel happens in the RE-Writing. Writing THE FEAR COLLECTORS taught me how two female characters can and must talk over one another. Ha!"
 What do you want your readers to know or take with them?
 "I want my readers to know and actually feel my passion but also to literally become my POV character during the course of the story. I want to drain my readers emotionally and run them over the cliff more than once!"
 What advice would you give beginning authors?
Read MAKING SHAPELY FICTION by Jerome Stern, and then read my DEAD ON WRITING. Other than that, study closely the writings of favorite authors and reread sections that move you emotionally. Read like a writer, think like a writer, be a writer who learns to use his/her tools, for instance, the various shapes Stern talks about. Do not run from using the journey story but rather twist it to your needs. And for heaven's sake, write in active verb/active voice."
Favorite Quote from FEAR COLLECTORS:
 Professor Bullfinch only said, "You girls want some moonshine? A cigar?"
They took the shine, one tumbler apiece. The stuff burned all the way down. "I imagine swallowing uranium is safer," Jessica commented on the brew. "Whew!"
Sam's forehead beaded with sweat after she swallowed the stuff. Bullfinch laughed at this and said, "I make it myself. Well, with a little help from a friend in the Chemistry Department."
Walker says the quote is a favorite since "it shows my two empowered female sleuths trying out homemade moonshine in an institution of higher learning! As both an author of female sleuths and admirer of women, as well as a professor of English, this just fits!"
 If you weren't a writer, you wanted to be a…
"I already am doing it – teaching. I love teaching. On Facebook, I have one of three walls that does nothing but tips and tweaks about WRITING. It's the teacher in me." (https://www.facebook.com/RobertWalkerbooks?fref=ts).
Other Mystery News: 
Terrie Farley Moran's bookstore café owners Sassy and Bridgy know Sassy's former boss is no murderer when he's accused of killing an ornery bookstore patron in CAUGHT READ-HANDED, the just-released sequel to the Agatha Award-winning Best First Novel, WELL READ, THEN DEAD. (http://terriefarleymoran.com/)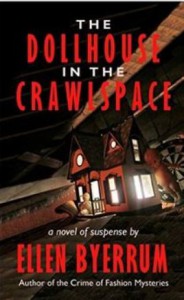 Since I'm a dollhouse collector, the cover of this one caught my eye. In THE DOLLHOUSE IN THE CRAWLSPACE, a new psychological thriller from Ellen Byerrum, a woman recovering from a tragic accident tries to recover her memories, and herself, by beginning a secret journal. (http://www.ellenbyerrum.com/).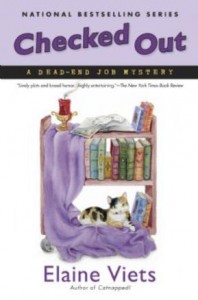 Also on the reading list is the latest (#14!) in the fun Dead-End Jobs Mystery Series by Elaine Viets. In CHECKED OUT, Helen Hawthorne is stunned when a woman asks her to find a million dollars lost in a library book. Read the first chapter: (http://www.elaineviets.com/new/novels/default.asp.)
** And if you like cozies, you can find the latest monthly releases list at http://www.cozy-mystery.com/blog/july-2015-mystery-book-new-releases.html.
 Happy Reading!